Thinking of updating your kitchen?  Here are some six great ideas for you, whether you're about to sell or have bought a new home.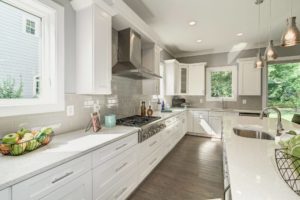 For home sellers, there are some not too costly updates to kitchens that can add real value to your home and decrease listing time.  For home buyers, when you are looking at kitchens of potential homes, consider that you can make these fixes after purchase to update the look and feel of your home!
1. Kitchen Counters:  For home sellers, granite is the way to go for replacement, and adding the keyword "granite" to your listing can help sell your home 38 days sooner for four percent more, according to Zillow, there are fixes you can make to existing surfaces.  Clearing counters of all clutter and unnecessary items will greatly improve their appearance. Next, for both sellers and buyers, cleaning, sanding/oiling butcher block, and fixing grout issues are low-cost steps for improvement.
2. Kitchen Floors:  For sellers, replacing kitchen flooring doesn't add as much value as other improvements, unless you currently have old vinyl flooring.  For both buyers and sellers, installing floating wood flooring is easy – the pieces literally snap together and lay over the current surface.
3. Backsplashes:  Updated backsplashes, in simple tiles — even large adhesive tiles that emulate other surfaces — can really add value — Zillow cites homes sell 46 days sooner for four percent more when "backsplash" is added to a listing. For both sellers and buyers, the stick-on tiles look much more expensive than they actually are, and are made to resemble stone, wood, and even pressed copper and tin.
4. Outlets: It goes without saying tat outlets throughout a home should be grounded and meet code, but it's also a good idea to update them.  USB-charging outlets are popular, and millennials are especially keen on seeing these outlets are standard features.
5. Appliances: Appliances are expensive, but all new appliances are a major attraction for buyers, and new home owners find that this can make an entire kitchen look updated. 
6. Faucet/Sinks:  Updated faucets are an easy and relatively inexpensive replacement, and can really add to the impression that a kitchen has been thoroughly updated.  Porcelain sinks can be re-glazed, but this is often more expensive than a newer sink. Stainless steel sinks and farmhouse-style sinks are very popular now.  For sellers, the most important aspect of a kitchen sink is that it is empty and clean.
Consider these updates before you list your home, or if a buyer, know that you can make these fixes to personalize and update your new home! 
written by Rhoda Wheeler