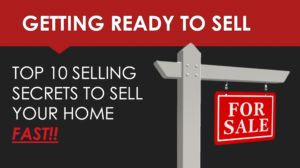 Check out these top 10 secrets to prepare your home for the market!:
SELLING SECRET #1:
THE FIRST IMPRESSION IS THE ONLY IMPRESSION!

Your curb appeal is the handshake of your home! Make sure it looks clean, fresh, and well kept so that buyers will fall in love at first sight!
SELLING SECRET #2:
ALWAYS BE READY TO SHOW!
It may be a bit inconvenient to have your home show-ready and be prepared to vacate at any time but you won't have to do it for long if you trust us on this one. You never want to turn a buyer away because they can't see the home last minute or because the home wasn't straightened up properly before the showing.
SELLING SECRET #3:
KITCHEN COMES FIRST.
You're not selling your home, you're selling your kitchen! The kitchen is the #1 most important space to highlight to appeal to buyers. In today's market buyers want to have a bright, open space that is clean and updated to gather with family and enjoy the art of cooking. That doesn't mean you need to go out and call a contractor right away! Try updating paint colors, decluttering and organizing the space, and updating some of the details like light fixtures, hardware, and faucets.
SELLING SECRET #4:
TAKE THE HOME OUT OF YOUR HOUSE
Depersonalizing your home allows buyers to picture their own family and their own furniture and decor in the home. Make sure you take down any personal items that are not just basic home decor such as family photos or art made by the kids that you've got hanging on the fridge.
SELLING SECRET #5:
DON'T OVER-UPGRADE.
Don't splurge on expensive makeovers. For every dollar you put into your home, I want you to get $1.05 back!
SELLING SECRET #6:
CONCEAL THE CRITTERS!

You heard it right! Not everyone is a pet lover so in order to ensure buyers are finding themselves comfortable and relaxed enough to picture their lives in the home, make sure you put your pets up before showings.
SELLING SECRET #7:
PLAY THE AGENT FIELD
The difference between a good agent and a bad agent is crucial. There is no substitute for experience and trustworthiness. Make sure you are vetting multiple agents and feel confident in placing your home in the hands of your chosen agent.
SELLING SECRET #8:
PLAY THE AGENT FIELD
This is a close second to the importance of location! Buyers love great lighting so make sure to take down the drapes and turn every light in the house on before each showing to create a bright, sun-filled environment.
SELLING SECRET #9:
HALF-EMPTY CLOSETS
Buyers love storage! This trick makes your closet look bigger and it highlights any built-in storage spaces where clothes or accessories might normally conceal them.
SELLING SECRET #10:
IS THE PRICE RIGHT?

You have to be bold in today's market! If you price your home appropriately, you should be able to count on multiple offers which can drive the home price above asking. Your home means a lot to you so of course you are going to want top dollar for it, but it's important to understand the market and work with your real estate agent to ensure you are using the right approach to get the most value!